Originally posted on
ChinaDaily.com.cn on August 27, 2012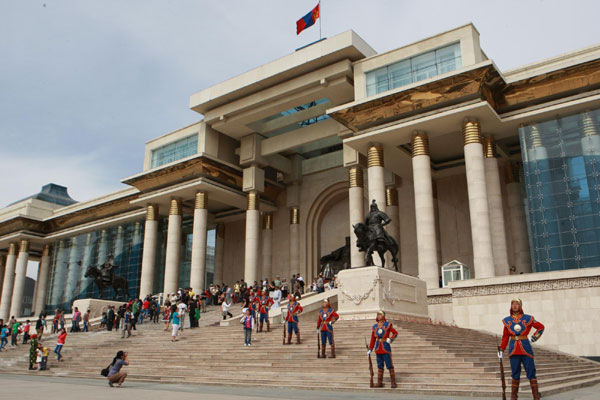 Photo taken on Aug 26, 2012 shows the outside view of the State Palace in Ulan Bator, capital of Mongolia. Mongolia opened its State Palace to visitors on Sunday to attract more tourists at home and from abroad. [Photo/Xinhua]
ULAN BATOR, Mongolia - Mongolia opened its State Palace to visitors on Sunday to attract more tourists at home and from abroad.
At the opening ceremony, government officials said, it was the first time that the government headquarters was opened to Mongolian and foreign visitors.
They hoped the decision, made at the first regular government meeting on Saturday, can strengthen Mongolians' love for their history and culture, and help foreigners to learn more about local culture and tradition.
The State Palace or Government House, built in the 1950s, is the work place for Mongolian president, parliament speaker and prime minister, and the parliament hall is also located in the building.
Inside the palace, a traditional Mongolian ger is used as a
reception
site for foreign leaders or dignitaries. It also houses a statue of Genghis Khan and nine white flags symbolizing the state power of Mongolia.
The palace is open to the public only at weekends.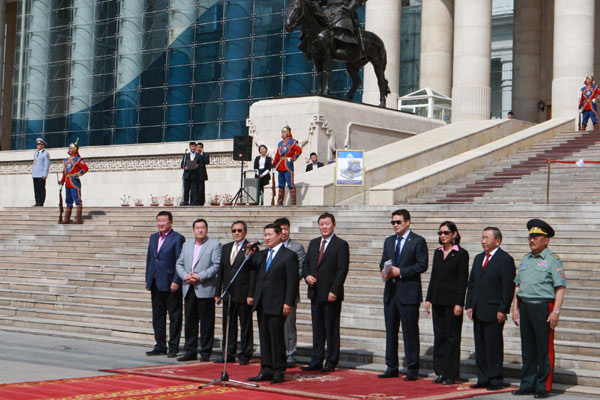 Mongolian Prime Minister Norov Altankhuyag (front) and government officials attend the opening ceremony of the State Palace in Ulan Bator, capital of Mongolia, Aug. 26, 2012. Mongolia opened its State Palace to visitors on Sunday to attract more tourists at home and from abroad. [Photo/Xinhua]
Word List
:
reception: the area inside the entrance of a hotel, an office building, etc. where guests or visitors go first when they arrive